Success Story: Pegasas
Pegasas sales are supercharged by a more reliable and converting search solution

Pegasas is one of the biggest online bookstores in Lithuania, offering a wide assortment of books, textbooks, and office supplies. Due to a highly competitive market, Pegasas is focused on providing the best possible user experience, meeting market demand, and making business decisions based on factual data.
Problem
Unsatisfactory previous on-site search experience
Before LupaSearch, Pegasas witnessed not fully satisfactory search experience. Their previous website search engine failed to accurately suggest search results.
For instance, when a user searched for "textbook for first grade", the search returned incorrect results, such as part one of the textbooks for all grades. Inaccurate search not only frustrated customers (since they could not find what they were looking for) but also resulted in lost sales for the company.
Also, due to a wide product assortment, Pegasas wanted to provide a faster and more reliable search solution, so users find products that match the search queries.
Many improved areas, more effective site search
To solve existing site search issues and improve effectiveness, Pegasas decided to integrate LupaSearch, a leading e-commerce search, into their website.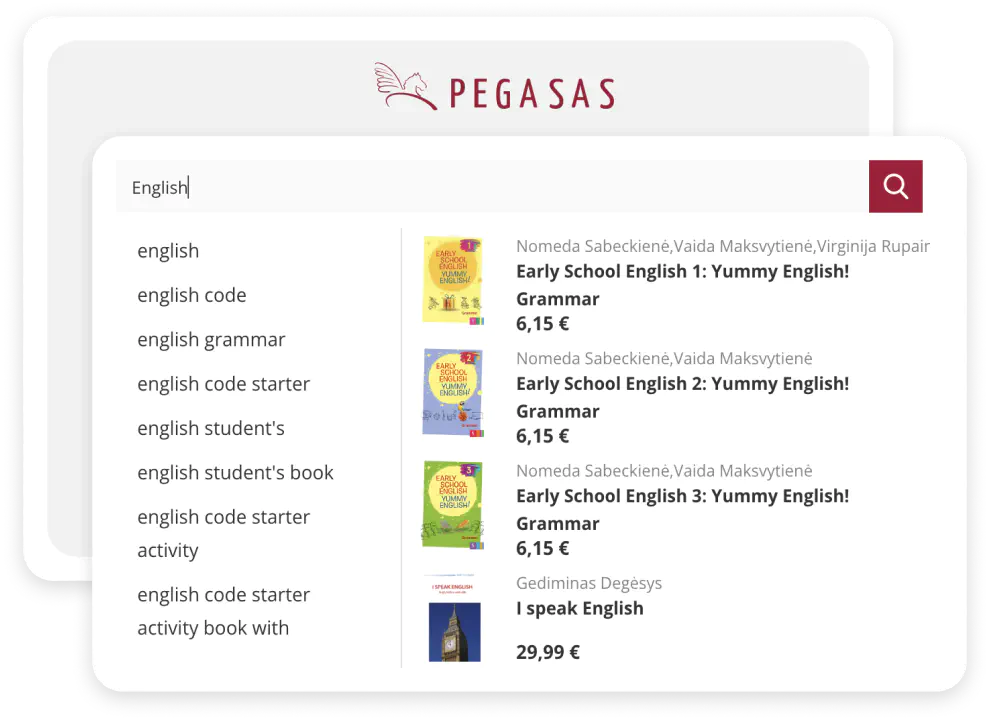 Highly relevant search results
LupaSearch, powered with AI-driven technologies, gets to the core of the users' search terms and delivers precisely what the user is looking for.
Natural Language Processing, typo tolerance, and did-you-mean functionality drastically improved the relevance of the search results. The current search perfectly understands the difference between the 1st-grade textbooks and part one of the textbooks for all grades.
Fast integration with little coding knowledge needed
The implementation process was quick and required minimal input from Pegasas' developer team. The integration was done entirely by the LupaSearch technical team using a LupaSearch front-end plugin.
Improving search speed
Since LupaSearch supported the integration of a whole product catalog with images, the search speed increased five times.
Search reliability improved dramatically, with customers now able to find the products they were looking for with minimal effort. It led to a significant increase in customer satisfaction and a reduction in bounce rates.
Real-time statistics for data-driven business decisions
The added value of LupaSearch does not stop here. The ability to monitor the statistics of searched products in the LupaSearch console and make business decisions based on the requests helped Pegasas to satisfy the emerging market demand.
For example, after seeing a high demand for English-language books, Pegasas decided to add more English books to their assortment, which led to a sales increase for these products and more returning customers.
LupaSearch collaborates with businesses and seeks continuous improvement
Continuous collaboration with clients is a key aspect of LupaSearch's approach. An effective search is like a living organism, evolving continuously. Therefore, our journey with a client never ends with primary search integration.
The LupaSearch team is constantly adding improvements to the backlog, coordinated by the Pegasas technical team. It ensures that the search results continue to improve and the user gets the best UX experience based on current needs.
We have been using LupaSearch for a year now. We are satisfied with the quality of the service, the quick implementation of changes, and the new opportunities. We are happy to be able to analyze search statistics and other key indicators.
Make your business story the next success story
The integration of LupaSearch into the Pegasas website was a success, leading to an improved search, increased customer satisfaction, and better data-driven business decisions.
Get a Demo