We're happy to announce some new updates and improved features in LupaSearch.
Since the last release note, our team has focused on adding new customer-relevant documentation, sending monthly reports, and offering new services to help your business grow.
Let's take a look at what's new.
Customer-relevant documentation
Firstly, we have added new documentation relevant to all users.
In a console (Guides section), we have added a User Manual that describes how to use LupaSearch.
Then, you can find a publicly accessible document named Good search practices - before release. This document contains relevant information on how new businesses can take the most out of the site search tool.
This section is particularly valuable for new LupaSearch users or those that are about to implement the solution on their website.
Monthly reports
Based on your requests, we have started to send monthly reports to our customers, overviewing the last month's search statistics.
We base weekly insights and recommendations on console analysis:
top search terms;
searches count;
top terms with the highest clickthrough rate (CTR);
popular suggestions;
searches without results.
All our customers receive the summary in .pdf and .csv files. You can use this data to optimize your product catalog and make data-based adjustments.
Monthly reports can help you stay on top of trending products and ensure your ecommerce store is always up-to-date with the latest shoppers' interests.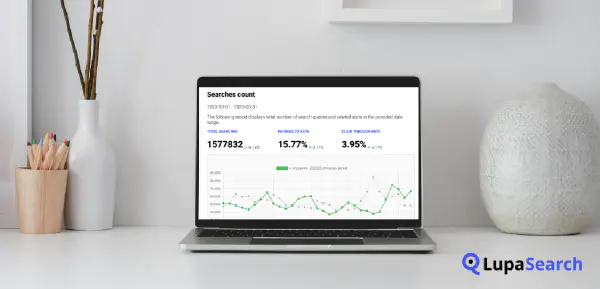 Consultation service for site search results improvement
Last, we have started a new consultation service. It provides you with expert advice and guidance to improve your ecommerce search performance and scalability with LupaSearch.
The service (starting at 450 Euros a month) contains weekly reporting on your site search performance. Then, you will work with our team of experts to create a personalized search experience tailored to your business needs.
The possible search improvements include:
Adding synonyms to the console;
Custom rules when adjusting a category (e. g. for search queries with the lowest CTR);
Customizing sorting rules by analyzing the most popular searches;
Applying rules to search suggestions.
We hope the new product improvements will make your ecommerce search more relevant and better converting.
Additional notes
We are committed to constantly improving our ecommerce search product and providing the best possible service to our customers.
If you encounter any issues or have any suggestions on improving it, feel free to contact our team. It will help us further improve our service.